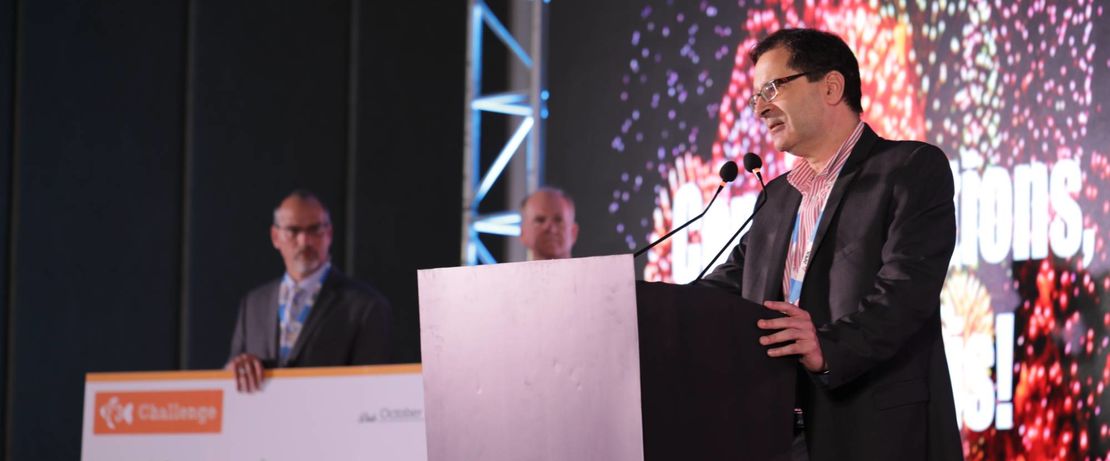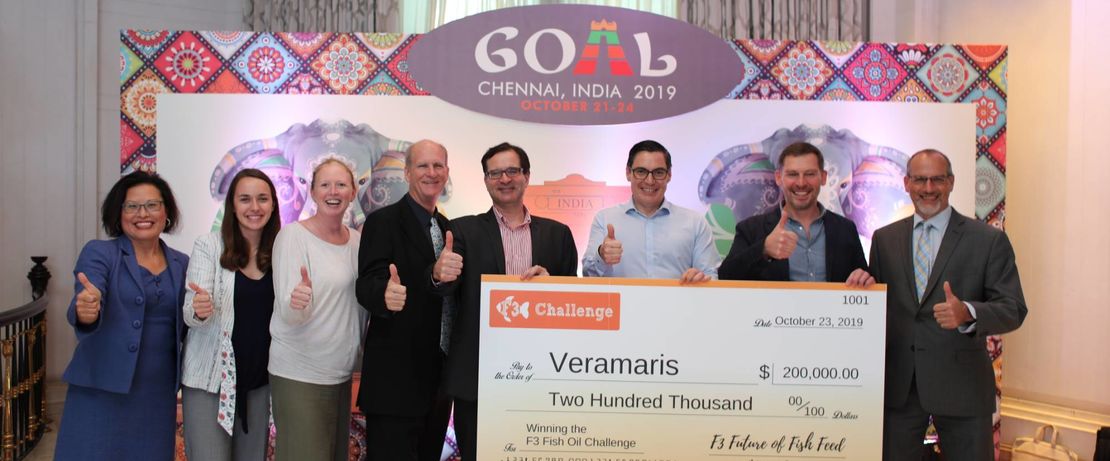 Press release
Animal Nutrition
October 23, 2019
Evonik and DSM joint venture Veramaris named world's best-selling algae-based omega-3 supplier to aquaculture
Veramaris wins prestigious "F3 Fish Oil Challenge" for selling more algal omega-3 EPA & DHA and omega-6 ARA this year than any other aquaculture ingredients supplier
World's largest salmon farmer Mowi, Yuehai Feed Group and AlphaFeed committed to trialling Veramaris' natural marine algal oil
Veramaris is a key part of Evonik's Animal Nutrition growth engine
Essen. Veramaris won the prestigious "F3 Fish Oil Challenge" for selling the largest amount of omega-3 EPA & DHA and omega-6 fatty acid ARA (arachidonic acid) from natural marine algae over the one-year challenge, thereby conserving the equivalent of 2 billion fish from use in fishmeal and fish oil. The prize was awarded to Veramaris CEO Karim Kurmaly during the Global Aquaculture Alliance's GOAL conference in Chennai, India, on 23 October 2019.
"Veramaris' success is a result of our efforts to reunite health and sustainability, while conserving finite natural resources. Innovations such as Veramaris are one of Evonik's many contributions to the increasing urgency for food system transformation", says Johann-Caspar Gammelin, Chairman of the Board of Management of Evonik Nutrition & Care. Veramaris is part of the Animal Nutrition growth engine, which helps drive Evonik's profitable and balanced growth.
The "F3 Fish oil Challenge" is held by "The Future of Fish Feed (F3)", and was launched in 2015. It forms part of a collaborative effort by the USA's leading NGOs (The Nature Conservancy, et al.), researchers, and private partnerships to accelerate commercial-scale adoption of alternative feed ingredients to reduce the reliance on wild-caught fish.
F3 contestants were required to develop a non-fish alternative to fish oil that contains the essential fatty acids EPA, DHA, and ARA. With an optimal ratio of all three acids needed to meet the nutritional requirements of farmed fish, Veramaris excels at providing the aquaculture industry with the only commercial-scale source of algal oil containing EPA, DHA, and ARA.
In response to the aquaculture industry's call for sustainable alternatives, Veramaris was founded by its parent companies DSM and Evonik. By producing a sustainable and scalable source of omega-3 fatty acids from natural marine algae, Veramaris ensures the continued growth of aquaculture. With its world-scale production facility in Blair, Nebraska, USA, which opened in July 2019, Veramaris is ready to supply 15% of the global salmon aquaculture's annual demand for omega-3 EPA and DHA.
Evonik is a leading supplier of essential amino acids for aquaculture. Its aim is to improve the industry's efficiency and sustainability by reducing the fishmeal content in commercial-scale feeds and supplementing vegetable-based diets with amino acids to best meet nutritional requirements. In conjunction with Evonik's portfolio of essential amino acids, Veramaris enables, for the first time, the formulation of so called "zero/zero" aqua feed diets that neither contain fishmeal nor fish oil. This marks a significant breakthrough in making aquaculture more sustainable and alleviating pressure on the ocean's fish stocks. According to the UN's Food and Agriculture Organisation (FAO), 90% of wild fish stocks are either overfished or maximally fished.
Evonik's Nutrition & Care segment has long-standing experience in modern livestock nutrition. The company is fully equipped to transform into a holistic system provider for healthy and sustainable food solutions. Linking nutritional products with data- and knowledge-based services and digital technologies, Evonik assumes a leading role in precision livestock farming.
The "F3 Fish Oil Challenge" is sponsored by The University of Arizona, University of Massachusetts Boston, Cuna del Mar, Synbiobeta, Anthropocene Institute, Dawson Family Fund, Sustainable Ocean Alliance, The Nature Conservancy, The Campbell Foundation, Tides Foundation, and The National Renderers Association.
Company Information
Evonik is one of the world leaders in specialty chemicals. The focus on more specialty businesses, customer-oriented innovative prowess and a trustful and performance-oriented corporate culture form the heart of Evonik's corporate strategy. They are the lever for profitable growth and a sustained increase in the value of the company. Evonik benefits specifically from its customer proximity and leading market positions. Evonik is active in over 100 countries around the world. In fiscal 2018, the enterprise with more than 32,000 employees generated sales of €13.3 billion and an operating profit (adjusted EBITDA) of €2.15 billion from continuing operations.
About Nutrition & Care
The Nutrition & Care segment is led by Evonik Nutrition & Care GmbH and contributes to fulfilling basic human needs. That includes applications for everyday consumer goods as well as animal nutrition and health care. This segment employed about 8,200 employees, and generated sales of around €4.6 billion in 2018.
Disclaimer
In so far as forecasts or expectations are expressed in this press release or where our statements concern the future, these forecasts, expectations or statements may involve known or unknown risks and uncertainties. Actual results or developments may vary, depending on changes in the operating environment. Neither Evonik Industries AG nor its group companies assume an obligation to update the forecasts, expectations or statements contained in this release.