The next generation of water-soluble probiotics
Ecobiol® Fizz
Feed changes, vaccinations, reduced feed intake – your flock faces ongoing challenges. Good to know Ecobiol® Fizz gives you a fast and easy way to support a naturally balanced microbiota. The soluble probiotic tablet distributes spores homogenously in water, without biofilm formation or clogging in water tanks and drinking lines.
Stressors can lead to microbial imbalance, reduced animal well-being and economic losses
Gut health and its related challenges have become one of the most important parameters for profitable and sustainable poultry production. In the transition towards antibiotic-free production, maintaining a balanced intestinal microbiota is a demanding and complex task.
When birds are exposed to stressors, such as feed changes, pathogens or vaccinations, diseases can occur easily and overall animal well-being is put at risk. Often, medication can have a negative effect on the microbial balance and gastrointestinal tract, creating a requirement for natural alternatives, such as probiotics.
Tackling these specific periods and ensuring a stable balance of the intestinal microbiota requires a reliable, rapid, and convenient solution that counters the effects of stressors to prevent economic losses.
Ecobiol® Fizz for increased animal well-being and an antibiotic-free production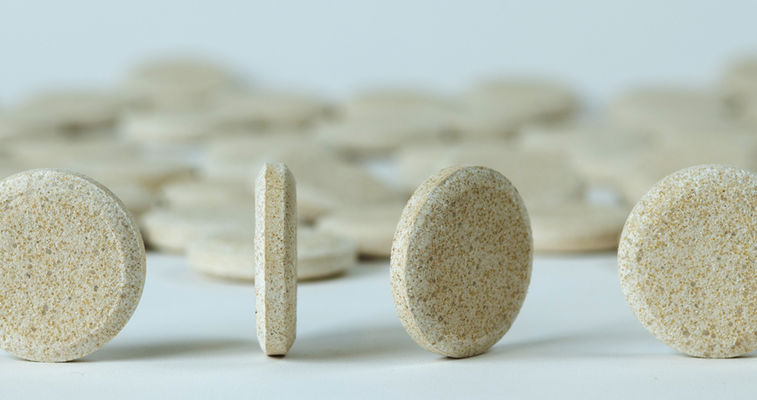 Ecobiol® Fizz is an effervescent tablet for water line systems and consists of our natural, fast-growing Bacillus amyloliquefaciens.
The soluble tablet delivers fast effects on microbial balance, especially in stressful periods. Continuously applied to the water line system it supports the use of feed probiotics for overall animal well-being and sustainable antibiotic-free production.
Ecobiol® Fizz flyer
Download our Ecobiol® Fizz flyer and have all relevant information at hand on the easy-to-use, highly efficient water-soluble-probiotics for poultry farming, providing better efficacy to the flock consistently and limiting biofilm formation.
Benefits at a glance
Ecobiol® Fizz is applied directly in water lines on farms.
Supports establishment of intestinal microflora when feed intake is low
Delivers fast effects on microbiota in stressful periods
Flexible usage of probiotics, regardless of current feed formulation
Easy dosing and handling of highly concentrated tablets
No sugar-based carrier or additives that impact the formation of biofilm in the water tanks and
drinking lines
Homogenous distribution of probiotic spores in the water line
Compatible with other feed additives and various water conditions
What's in it for you
Fast delivery
Maintains health status of broilers in each challenge faced throughout the production cycle
Contributes to a sustainable and AGP-free poultry production
Improves product quality and animal well-being
PRODUCT INFORMATION ON ECOBIOL® Fizz
Certain statements may not be applicable in all geographical regions. Product associated claims may differ based upon regional or national requirements.