Ruminant Solutions
Helping dairy farmers maximize opportunities
We help dairy farmers manage their farms in a profitable and sustainable way with high animal welfare standards.
What are the key challenges and barriers to successful dairy farming?
These days, dairy farmers face three major challenges: ecological sustainability, nutritional efficiency, and animal health. While demand for milk and dairy products continues to rise, pressure is growing to reduce the environmental footprint of production and to ensure a high level of animal health and welfare.
For sustainability reasons alone, the increasing demand for milk should be met by improvements in efficiency rather than by an increase in the number of cows. In fact, an improvement in production efficiency, i.e., more milk per cow, supports sustainability goals by reducing greenhouse gas (GHG) emissions per unit volume of milk produced.
Only optimally fed and supplied cows perform at peak milk production and deliver the highest milk quality. Stress for the animals should be avoided.
An increasingly relevant stressor for dairy cows is heat, causing them discomfort and a drop in productivity. Also, sub-optimal feed digestibility and reproduction performance along with inefficient farm management can lead to low productivity, putting economic viability at risk.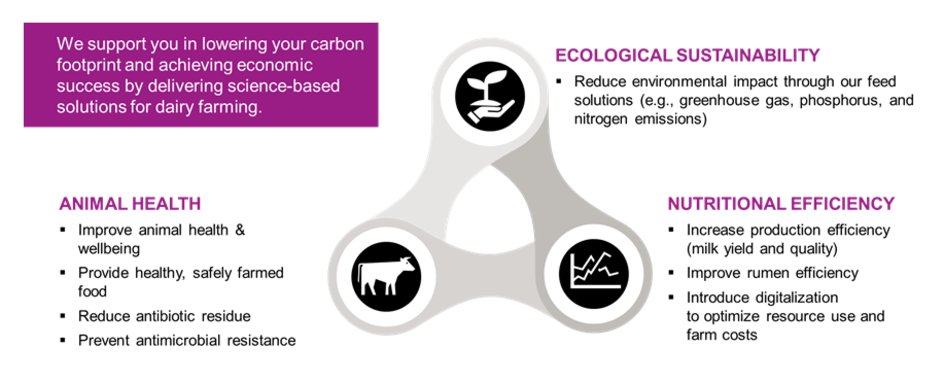 Our dairy solutions at a glance
We help dairy farmers reduce their carbon footprint and improve their bottom line, by providing holistic solutions with a synergistic portfolio covering products, services, and expert knowledge.
Thanks to precision nutrition, we help reduce feed cost and GHG emissions in higher yields and improve the health and welfare of cows. Low protein concepts have been established in monogastric species, and the same benefits can be obtained in ruminants. Low-protein rations, balanced for amino acids that are most limiting in dairy cows' rations utilizing rumen-protected methionine (Mepron®) and rumen-protected lysine (AjiPro®-L), help to reduce both cost and carbon footprint.
Products, services, and knowledge for sustainable dairy production
Find out more about the individual products and solutions that can help you run your dairy farm more sustainably and profitably:
Feed amino acids for ruminants need to be protected against microbial degradation in the rumen and released in the small intestine. Choosing a reliable source of protected methionine is key. The product must be supported by abundant reliable scientific literature demonstrating its effects, and a long-time presence in the market with practical experience is also a great benefit. Our rumen-protected product Mepron® enables dairy farmers to reach their goals without additional costs.
K-pron®, our potassium carbonate supplement for dairy cows, has a rumen-buffering effect, supporting microbial activity and fermentation. During the hot season, increasing the dietary cation-anion difference with potassium supplementation helps to maintain the acid-base balance and related physiological and cell functions in cows.
With a combination of K-pron® and Mepron®, dairy farmers can maintain dairy cow performance under heat stress. Mepron® optimizes protein and energy metabolism, while K-pron® has a triple purpose in providing potassium to compensate for losses through sweating, a contribution to the Dietary Cation Anion Difference (DCAD), and the rumen-buffering effect of the carbonate.
How you can benefit from our dairy solutions
The protein efficiency concept for dairy cattle works in the same way as for poultry or swine. It begins with a switch from protein nutrition to a balanced amino acid approach. It represents a viable approach to meet the challenges of environmental sustainability and production economics in dairy farming by improving the protein efficiency and reducing crude protein levels in the cows' feed.
By using the right solutions (products, services, and expert knowledge) we help farmers produce high quality milk and improve profitability. For example, high-performance dairy cows with a milk yield have a particularly high requirement for methionine and lysine. Additionally, the role of amino acids goes beyond aiding performance, by improving herd health, immunity, and fertility.
We help you create generations of healthy cows.
How is more sustainable dairy farming possible? - Proof of concept
How can we help you? - Contact us!
Through our products and services, we can support you to improve your dairy operations. 
Contact Claudia Parys, our Head of Ruminant Solutions, to learn more about the low crude protein diet concept, amino acids portfolio, functional feed additives, or our feed quality services and expert consultancy for the ruminant industry. Simply give her a call, drop her a line, or connect with her on LinkedIn. Claudia is looking forward to hearing from you.
Further information
The dairy industry plays an important role in the food system.  Consumption of dairy products is rising across the globe. This growth is driven by changing dietary habits and rising prosperity in emerging countries.
Globally, total milk production has grown by approximately 1.8% since 2014 and milk yield has increased by more than 3 per cent. In parallel, the cow population has remained stable, thanks to improved efficiency, and this trend needs to be maintained or even expanded.
In the US and Europe, drinking milk accounts for approximately 12 per cent of total milk production, while more than 60 per cent is used to produce cheese and butter. The quality of milk and milk components (protein, fat, solids-not-fat, somatic cell count) matters, as it determines the profitability of farms.
Total number of cows in developed markets is decreasing.
Number of farms is decreasing while farm sizes are getting larger, driving higher efficiency and sustainability.
Globally, the proportion of high yielding cows will increase to meet the demand of milk and milk products from growing population.
To grow further, the dairy market needs:
To achieve ecological sustainability: through reduction of emissions of greenhouse gases (GHG), methane (CH4), nitrogen (N) and phosphorus (P)
To improve efficiency: to meet growing demand for high quality milk, through farm cost optimization (automation and digitalization)
To maintain animal health: using healthy nutritious supplements in place of antibiotic growth promoters (AGPs)
To meet end-consumer preferences: GMO-free, organic, and lactose-free milk, produced with a reduced eco-footprint
Sustainability is the key driver for the efficiency and technology push in the dairy sector.
There is potential to reduce GHG emissions (CO2-eq per kg of protein) from livestock by 33 per cent by adapting practices to increase production efficiency.
High yielding cows: avg. 1.3 kg CO2 eq/kg milk converts to  ~ 40 kg CO2 eq/kg protein (3.3 percent protein as is basis).